We're not reinventing the wheel.
Here's just a few reasons why our bodysuit is pawfect for your pup!

Full-Length Zipper For More Protection 
Designed with the same MICROBlok Technology as our Supra Plus Bodysuit, the Full Cover Bodysuit provides additional protection for your pup's stomach. Whether you're a Toy Poodle who needs help keeping his belly clean during hikes or a happy Pitbull that loves to lay on her back and tan in the backyard, our Full Cover Bodysuit is the suit for you.
Our Full Cover Bodysuit is our first dual-color suit designed for better visibility while pups are hiking, running through the woods or playing out in the snow. The slim fit of our bodysuits also allows dogs to run and play freely without any movement restrictions, making it the only full coverage suit you need.
Designed with MICROBlok Technology performance material by Sportek International, Inc., our Full Cover Bodysuit is antibacterial, antimicrobial and odorless - the perfect combination to help combat some of the worst cases of grass, pollen and other environmental allergies and give dogs more playtime! Plus, the suit helps pawrents that suffer from allergies because of their pup's fur by acting as a barrier from pet dander. 
Pups with wounds that need time to heal or surgical sites that require coverage for long periods of time can also greatly benefit from our Full Cover Bodysuit. Whether your pup is recovering from a spay or neuter operation and needs their stitches protected or you want to eliminate the need for a clunky Elizabethan Cone (or e-collar) after surgery, our suit is a great solution.
Three Reasons Our New Full Cover Bodysuit is What Your Pup Needs This Summer!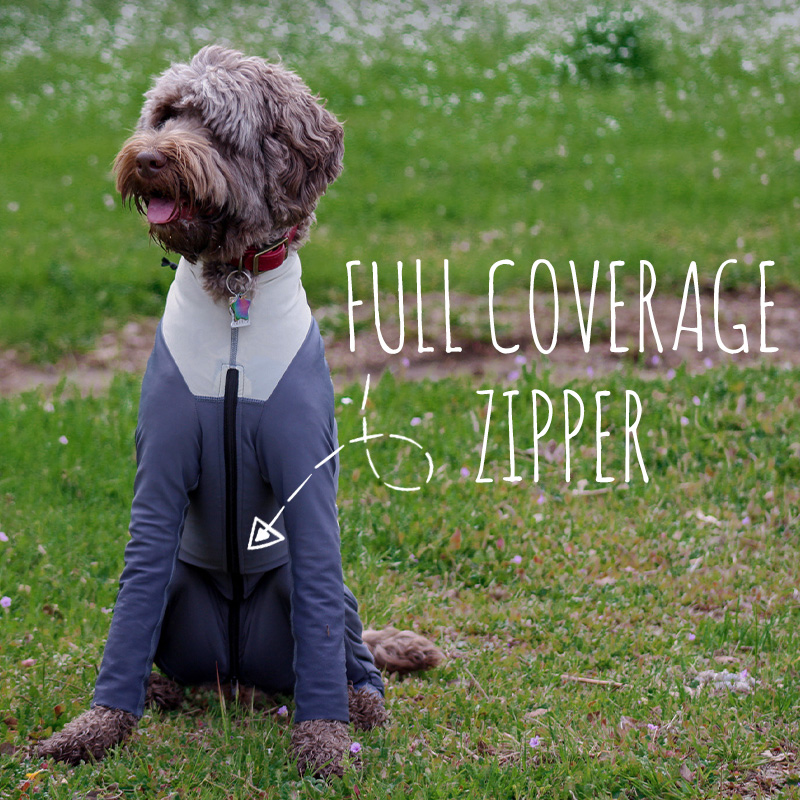 Get
10% off your first order

when you sign up to our K9 Club