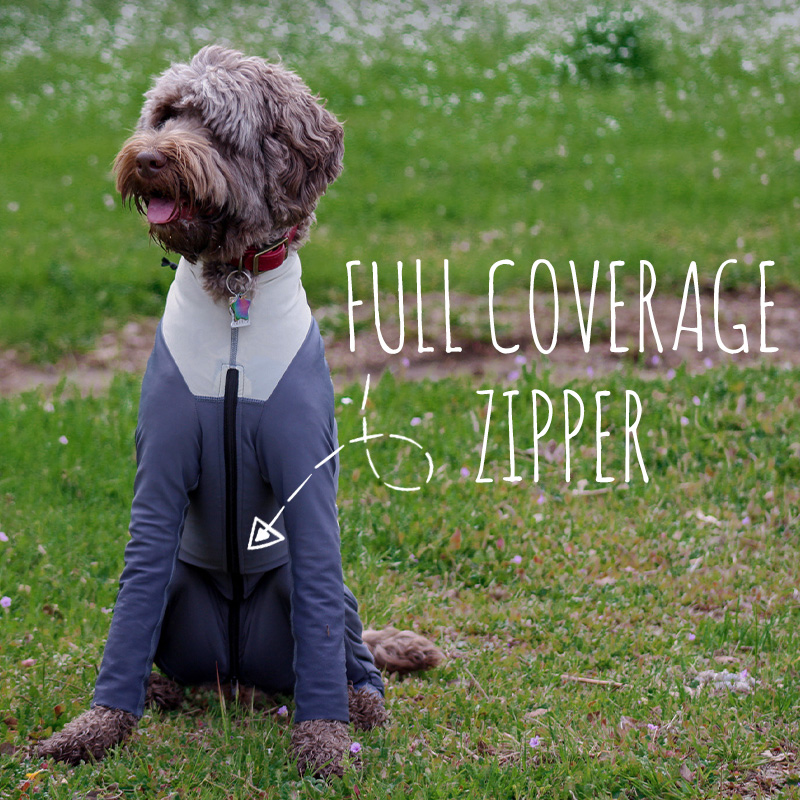 Full Cover Bodysuit
Our same great Supra Plus Bodysuit with added protection for your pup. Designed to shield pups from some of the worst cases of grass, pollen and other allergies, our Full Cover Bodysuit  is made with MICROBlok Technology performance material by Sportek International, Inc. The anti-allergenic, fungicidal and bactericidal properties prevent the multiplication of dust mites and the suit is ideal for pups who suffer from mild to severe allergy symptoms, have wounds that are slow to heal (due to licking, scratching, etc.), and much more. The full coverage zipper along the stomach of the suit provides more protection from snowballs adhering to your pup's fur, shields sensitive skin from harmful UV rays and keeps fur clean on hikes, walks, etc. 
Our non-travel zipper keeps the suit in place even on the most active pups. The suit will need to be left unzipped based on your pup's anatomy so they can go to the bathroom at their convenience. 
Made in the US with pawsitive vibes.
Our Full Cover Bodysuit is perfect for:
Allergy prevention & relief

UV protection (rated UPF 50+ & blocks out 98% of harmful UV rays)

Anxiety relief 

Preventing the multiplication of dust mites

Healing after surgery (prevent irritation to stitches, wounds & medicated areas)

Hot spot prevention

Injury, rash & surgical site protection 

Tick, burr & sticker prevention

Mud & debris protection

Shedding control

Snow protection

Coat damage prevention
Want to know more about all three of our lightweight dog bodysuits? Check out our blog post for more info!
Sizing
To ensure your pup gets the right size the first time, there are a few measurements we'll need:
Top Line – starts between your pup's shoulder blades and ends at the base of their tail
Girth – the deepest part around your pup's chest just behind their front legs
Weight – how much your pup weighs
Sometimes, pups can fit into two sizes based on their measurements. Contact us via live chat or give us a call and we'll help you figure out the best size recommendation!
Brochure
Download our brochure to learn more about our Full Cover Bodysuit.
Share your thoughts!
Let us know what you think...