Protection for Every Season
K9 Top Coat revolutionized dog apparel in 1999 when we created and introduced the first-of-its-kind full bodysuit for dogs - the Supra Bodysuit. Its comfortable athletic fit and wide range of benefits and uses has made this suit a best-seller for the past 23 years.
From minimizing ticks & burrs during summer hikes to providing snow protection during the winter, our Supra Bodysuit solves common pet problems so you can focus on what matters most - going on more adventures and making memories with your best friend.
Safety Is Our #1 Priority
We care about the safety and well-being of all dogs who wear our suits. We had an independent study conducted by the UC Davis School of Veterinary Medicine to ensure our suits wouldn't cause dogs to overheat. 
It's All About the Benefits
Spend more time making memories with your pup and less time pulling out burrs, washing off mud, etc.
Live in a winter wonderland or spend the holidays in snowy weather? Our suit is a game-changer for pups who love playing in the snow but hate snowballs in their fur. 
From loud fireworks to thunder, sensitive pups can have anxiety just like humans. Our suit's snug fit can bring the same comfort as a hug to make them feel safe + secure.
Keeping fur off your clothes, furniture and floor can feel like a never-ending battle. Our suit can help significantly reduce how much fur ends up in your home, car, etc.
Whether you have a favorite trail or you're taking the road less traveled, our suit helps keep burrs, stickers & debris off your dog to prevent coat damage + keep them clean.
Rated UPF 50+, our Supra Bodysuit blocks out 98% of harmful, cancer-causing UV rays to help protect your pup's sensitive/fair skin.
The only things that should come back from a day at the beach or lake are fun memories, not sand or dirt in your car or home.
After your favorite hike or walk in the park, come back home to a cleaner pup. Our suit has been a lifesaver for pet parents who want to keep pups cleaner in between grooming.
Allergy season is ruff for many pups. Our suit creates a barrier between outside allergens and your dog's skin to reduce contact and allergy symptoms.
Not only can our Supra suit help with healing after surgery (reduces irritation to stitches, wounds, etc), it can often replace the Elizabethan collar (aka: the cone of shame).
See What Everyone's Barking About
We can talk about our Supra Bodysuits all day, but our amazing customers say it best!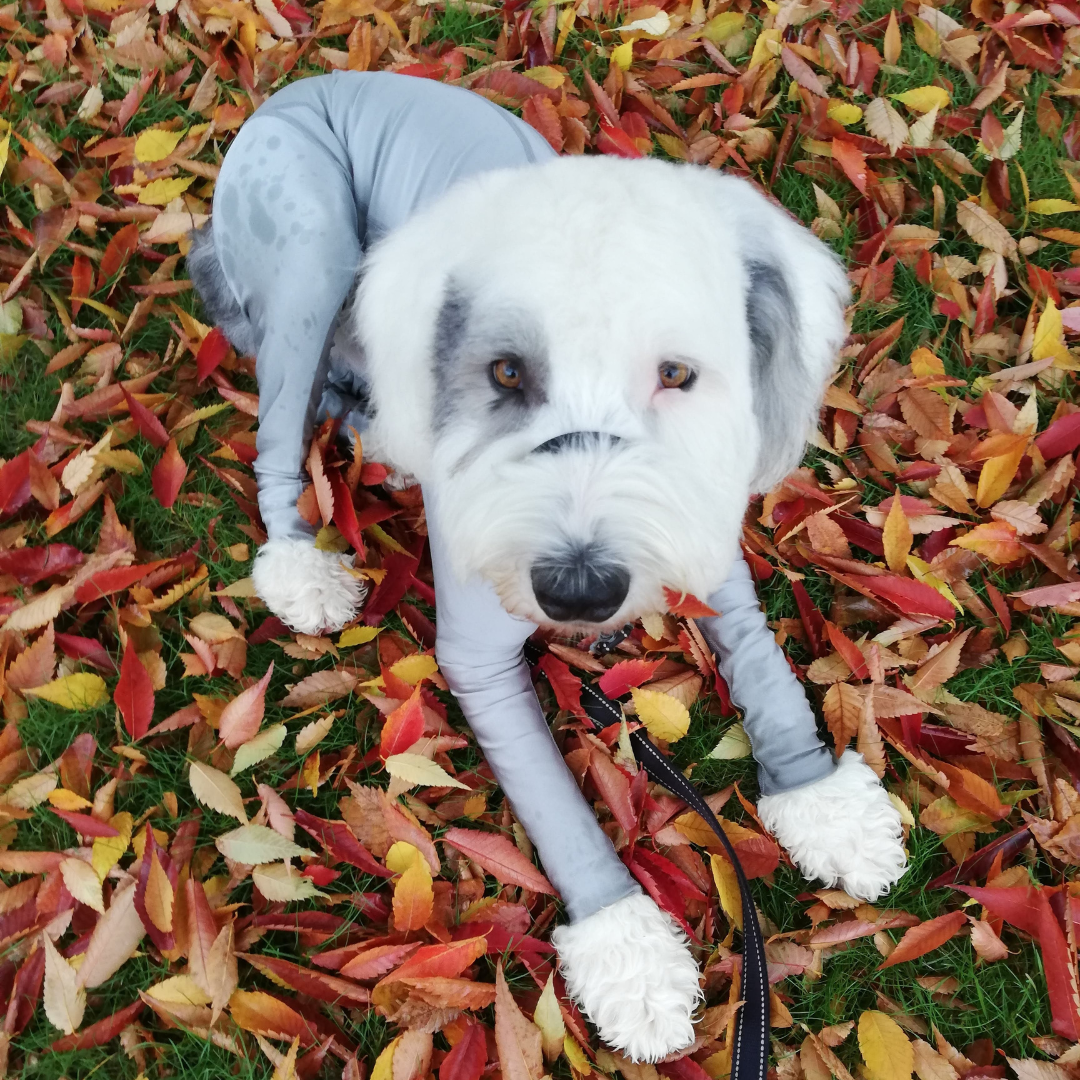 Fiorella Calderoni & Basil Barkowitz
Verified Owner
"The suit keeps my dog clean and dry which saves me a LOT of time! I use it for walks in the rain, trails, dog parks, and beaches...it's also perfect for snow because he doesn't get matted. I totally recommend this suit for anyone with a dog that has long hair or a white coat.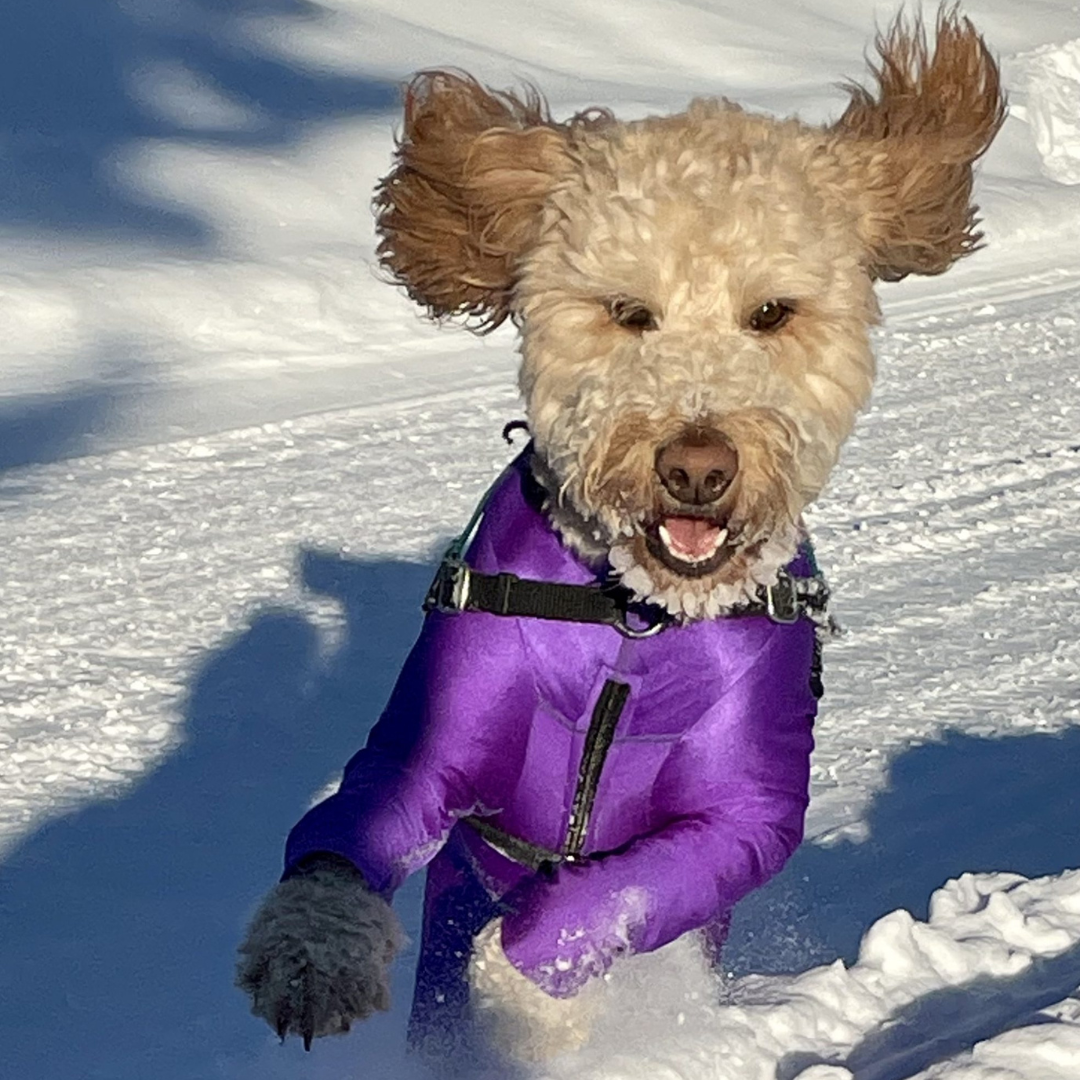 Gundula O'Neal
Verified Owner
"We recently purchased a Supra suit for my 45lb Goldendoodle, Ivy. We live in the Pacific Northwest where the snow is piling up. Ivy loves the snow, but the snow and ice balls that would attach to her legs and belly would constantly bother her. The K9 suit is a game changer for her, and for us."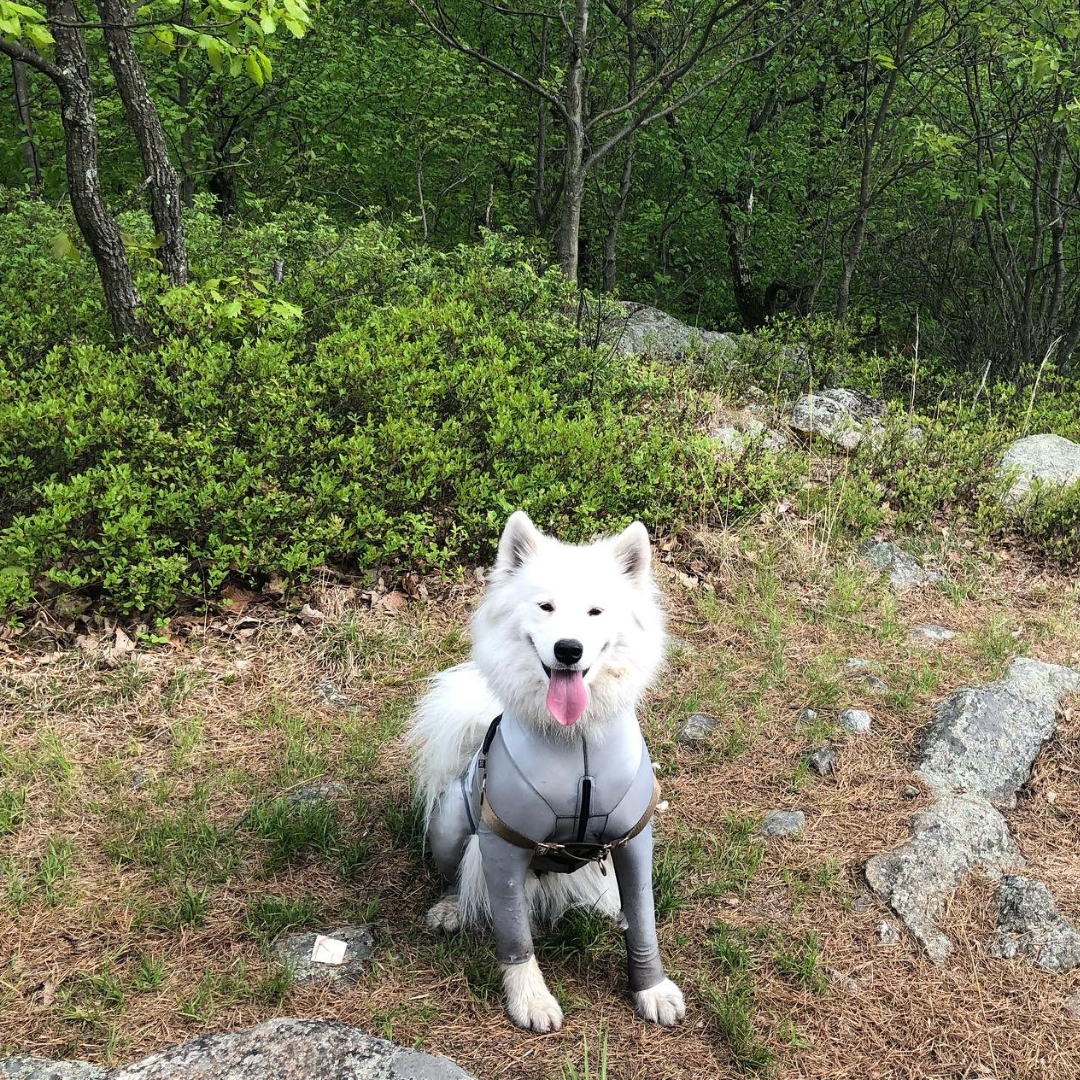 Michal Bacon
Verified Owner
"We bought the K9 Top Coat for our pup after we went hiking and she came back covered in hundreds of ticks (not an exaggeration!!). This coat covers her from neck down to tail and dramatically reduces the number of ticks we find after our hikes. Also helps with clean up as the mud sticks to the coat and not to her fur..."
How to Measure Your Pup for the Best Size
How to Measure Your Dog's Top Line
The top line measurement determines the length of your dog's back, starting from the base of the neck (where the shoulder blades begin) and ending where you want the suit to end (close to where the tail begins). Your dog should also stand up as you take this measurement – if they're sitting or laying down, their spine can elongate and give you an inaccurate measurement.
To Measure Your Dog's Top Line:
Have your dog stand on a flat surface in a natural stance.
Find the base of their neck (where the shoulder blades begin, NOT up at the collar).
Use a tailor's measuring tape to measure a straight line along your dog's spine, ending where you want the suit to stop (usually close to where the tail begins).
If you don't have a measuring tape, you can use a string, phone charger, etc, to mark your dog's top line length. Then place that item next to any household measuring tool (like a ruler) to find the actual top line measurement.
Write down the measurement and round up to the nearest half inch if needed.
How to Measure Your Dog's Girth
The girth measurement determines your dog's circumference to ensure a comfortable fit in the chest area. The girth measurement is found by measuring all the way around your dog behind the front legs (where their chest/girth is the widest and/or deepest). The exact location can vary depending on your dog's breed and body shape. An accurate girth measurement helps guarantee a snug yet comfortable fit for your dog's bodysuit.
To Measure Your Dog's Girth:
Have your dog stand on a flat surface in a natural position.
Take your flexible measuring tape and wrap it around the widest part of your dog's chest/ribcage (somewhere behind the front legs).
Make sure the measuring tape stays flat and snug (do not add room to account for your dog's fur, otherwise the suit may be too baggy).
If you use a string, phone cord, etc. for the measurement, mark on it the length that fits around your dog's girth and use any household measuring tool (like a ruler) to determine the girth size.
Write down the measurement and round up to the nearest half inch if needed.
Frequently Asked Questions
Here's some of the most common questions we get about our Supra Bodysuit, but reach out to us if we didn't answer yours!
Join the K9 Club to get 10% off your first order, be the first to know about deals + see cute pup pics!